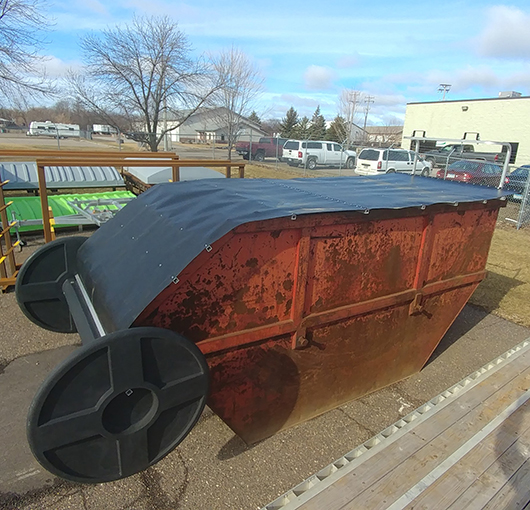 OVERVIEW
Lugger Cover by ALCO protects container from storm water exposure, theft, and unauthorized dumping. Installs or removes in seconds and fits any size container. The cover is made of UV protected high density polyethylene.
Industrial Strength Cover
Standard size cover is 72″w x 192″extended.
Custom sizes available
Covers all major container sizes
Vinyl is coated for extra strength
Vinyl is polyester reinforced with scrim
Waterproof, rot proof, shrink proof
NFPA fire retardant, CFM fire retardant
Finished edges for clean crisp appearance
Installation
Play video on the left for a demo
Quick operation
Only requires single person to operate
Easy to Open and Close
Rolls with ease using only one hand
No need to fumble around with covers that you need to throw over the bin
Requires less time to open than mechanical dumpster bins
No anchor straps are needed which can snap back or break
For initial install use a forklift for lifting into place.
If not fork lift is available then the hand operated lift for mounting and removal of cover is available for an additional charge.
Once installed, it stays in place with clamps.